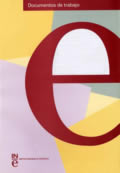 Modelling irrigation water consumption at the micro data level in the Survey of Production Methods in Agriculture 2009 (Spain)
Doc: 10/2011
Preliminary studies for the second phase of the Agricultural Census 2009 (Survey ofProduction Methods) recommended not to include in the survey forms the quantity of water consumed ( required by the EU regulation) as an specific question, mainly due to the risk of high measurement errors. Therefore it was decided to launch a project of model assisted estimation in several stages, described in the paper:
I) Theoretical water needs. After several treatments, the theoretical water requirements per crop are estimated based on an agroclimatic model.
II) Adjustments for irrigation efficiency. In this stage the irrigation water needs per crop is imputed according to the irrigation techniques used by the holding.
III) Management efficiency. Final estimation of effective consumption is implemented and adjusted to external sources to take into account the management efficiency of irrigation.