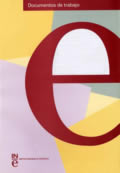 Additional questions to better measure the self-declared professional status and how to link the mismatches produced in previous series through an econometric model
Doc: 03/2014.
From 2009 onwards, it was decided to include in the Spanish LFS questionnaire some additional questions for workers who self-declared being members of cooperatives, unpaid family workers or self-employed so that the professional status was better measured. Since then, the previously observed mismatch upward in the level on the total number of selfemployed workers was almost completely adjusted.
In the new data on professional status, it was also distinguished which of them had changed from self-employment to wage employment due to the supplementary questions. Therefore, after several quarters, it was possible to fit the change in professional status through aneconometric model and a set of significant explanatory variables obtained from the rest of the questionnaire. Finally, we managed to get a good enough model and could be able to set downin the self-employed 2005-2008 series and the corresponding rise (by the same amount) in the wage employment series.