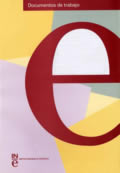 Uso de fuentes administrativas para la reducción de carga y costes en las encuestas estructurales de empresas (UFAES)

/

Use Of Administrative Sources To Reduce Statistical Burden And Costs In Structural Business Surveys (UFAES)

Doc: 06/2012 Versión en español / A reduced english version

El uso de fuentes administrativas con fines estadísticos forma parte de la actividad corriente del Instituto Nacional de Estadística español (INE) en diversas áreas. El proyecto UFAES supone un nuevo salto cualitativo en estas actividades, con objetivos orientados a reducir de manera significativa el tamaño muestral de las dos grandes operaciones estructurales de empresas en el INE.

The use of administrative sources with statistical purposes is part of the current activity of the National Statistics Institute (INE, Spain), in various fields. UFAES project provides a new qualitative impulse to these activities, with objectives oriented to significantly reduce the sample size of the major INE annual structural business surveys.
Palabras clave / Key words: Uso, datos, fiscales, encuestas, económicas, reducción, costes, carga, estadística, empresas, administrativas, fines, estadísticos, integration, tax, microdata, enterprise, surveys, indirect, estimation, change, enterprise, structural, variables
Uso de fuentes administrativas para la reducción de carga y costes en las encuestas estructurales de empresas (UFAES)

/

Use Of Administrative Sources To Reduce Statistical Burden And Costs In Structural Business Surveys (UFAES)
(Pdf 1155 KB)
Jorge Saralegui, Cristina González, Ignacio Arbués