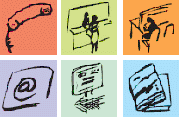 The publications included in the catalogue show the retail price in euros including VAT; nevertheless, the publications are printed with a rate, rather than a price. The list of rates and their equivalent in euros is updated every two years with the CPI change.
All INE publications that are currently in our catalogue may be acquired as follows:
- Bookshops
at the central services in Madrid and the Provincial Delegations
- Requesting it via fax, electronic mail: se.eni@ecidni or post.
Provincial delegations of the INE and the Electoral Census Office

(Opening hours: Monday to Friday from 9 to 14)

Province

Map

Address
Telephone
Fax
Albacete
Padre Romano, 61 - 02005
967 19 19 30
967 21 66 49
Alicante/Alacant
México nº 20 - 03008
965 13 59 00
96 592 03 15
Almería
Calle Fresador, 12 - 04009
950 28 17 39
950 27 68 20
Araba/Álava
Calle Portal de Castilla 9 y 11. - 01007 Vitoria
945 15 47 30
945 14 31 64
Asturias
General Elorza, 17 Bajo - 33001 Oviedo
985 20 78 56
985 21 48 15
Avila
Intendente Aizpuru, 4 - 05001
920 35 26 70
920 22 39 26
Badajoz
Avenida de Europa, 1-3ª Planta - 06004
924 22 96 96
924 24 84 45
Balears, Illes
Miquel Capllonch, nº 12 - 07010 Palma de Mallorca
971 77 49 94
971 46 77 48
Barcelona
Via Laietana, 8 Entresuelo - 08003
932 95 97 95
933 10 19 23
Bizkaia
Plaza del Ensanche, 3 - 48009 Bilbao
944 10 61 00
944 21 97 04
Burgos
Avd. del Arlanzón, 27 - 09004
947 25 68 90
947 27 65 07
Cáceres
Avda. Ruta de la Plata nº 12 bajo - 10001
927 22 00 68
927 21 44 84
Cádiz
Edificio Glorieta; Glorieta Zona Franca, s/n - 11011
956 29 34 37
956 27 96 08
Cantabria
Concepción Arenal, 10 - 39008 Santander
942 36 75 00
942 36 24 90
Castellón/Castelló
Pare Ricardo, 11 -12005
964 72 27 93
964 22 91 17
Ciudad Real
Ronda de la Mata nº 8 - 13004
926 27 17 60
926 25 56 09
Córdoba
Antonio Gaudí, 4 - 14005
957 49 85 02
957 48 56 13
Coruña, A
Adelaida Muro, 12 -15002
981 21 74 26
981 20 62 35
Cuenca
Ramón y Cajal, nº, 37 -16004
969 24 09 97
969 23 05 22
Gipuzkoa
José María Soroa, 23 - 20013 San Sebastián
943 29 36 66
943 29 26 30
Girona
Cap de Creus, 4-6 - 17005
972 20 00 99
972 21 90 00
Granada
José Luis Pérez Pujadas, 6. Edificio Forum - 18006
958 53 59 00
958 26 40 33
Guadalajara
Avenida Castilla, 12 - 19002
949 24 74 11
949 21 56 06
Huelva
Macías Belmonte, 24 - 21002
959 54 10 28
959 28 07 08
Huesca
Coso Alto nº 14, 2ª planta izqda. (Edificio de Correos) - 22002
974 21 53 45
974 21 18 75
Jaén
Plaza de Jaén por la Paz, 2 - 7º - 23008
953 29 69 46
953 22 72 06
León
Avd. Reyes Leoneses, 14 - 24008
987 87 63 12
987 27 94 25
Lleida
Bonaire, 47-49 - 25004
973 23 82 24
973 23 64 89
Lugo
Rua Doutor García Portela, 19 - 27002
982 28 46 00
982 24 68 72
Madrid
Trafalgar 29 - 28010
91 583 90 15
91 583 90 43
Málaga
Puerta del Mar, 18 - 29005
952 22 24 00
952 60 02 16
Murcia
Alfonso X el Sabio, 6 Pl. 2 - 30008
968 27 20 10
968 23 61 69
Navarra
Yanguas y Miranda, 31; 6ª planta - 31003
948 36 67 24
948 17 40 76
Ourense
Salvador Dalí, 13-15 - 32002
988 21 18 69
988 21 09 89
Palencia
Avda. Simón Nieto, 10 - 34005
979 70 68 55
979 70 11 33
Palmas, Las
Avda. Alcalde Rámirez Bethencourt, nº 21 Planta Baja (Trasera Edificio Alferez Provisional) 35004 - Las Palmas de Gran Canaria
928 43 19 10
928 36 11 58
Pontevedra
Iglesias Vilarelle, 2 - 36001
986 86 85 00
986 84 44 53
Rioja, La
Parque San Miguel, 11-12 bajo - 26007 Logroño
941 20 74 20
941 20 74 86
Salamanca
Paseo Doctor Torres Villarroel 72-74 bajo - 37005
923 12 52 80
923 26 13 82
Sta. C. de Tenerife
Prolongación Ramón y Cajal, 3 - 38003
922 53 17 50
922 24 64 39
Segovia
Plaza de los Médicos, 3 - 40005
921 41 24 34
921 44 26 37
Sevilla
Avda Palmera, 19C - 41013
954 46 72 10
954 46 78 58
Soria
Mosquera de Barnuevo, 10 - 42004
975 23 37 73
975 22 97 39
Tarragona
Pare Agustí Altisent, 1 (esquina C/Jaume I, 22) - 43005
977 24 80 85
977 22 76 09
Teruel
Agustina de Aragón, 14 - 44002
978 61 94 00
978 60 58 41
Toledo
San Lucas, 2 - 45001
925 25 00 70
925 22 31 88
Valencia/València
Camino Nuevo de Picanya, 27 - 46014
963 16 62 00
963 91 95 92
Valladolid
Juan II de Castilla, 2 - 47009
983 36 26 62
983 37 16 44
Zamora
Plaza del Mercado, 24 - 49003
980 50 82 90
980 53 23 37
Zaragoza
C/ Albareda, 18, plantas 3 y 4 · 50004
976 59 02 97
976 59 87 54
Ceuta
Jáudenes, 10 - 51001
856 20 02 16
956 51 87 77
Melilla
Plaza del Mar, s/n. Edif. V Centenario. Torre Sur, 6º planta - 52004
952 69 04 00
952 67 22 88