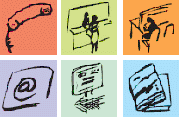 Update of rental income by complete annuities with the CPI (ULA)
Updated on 14th March 2023
The Consumer Price Index (CPI) methodology was completely renewed in January 2002, and a new calculation system was introduced, which is the one that currently in effect. As a result of this change in the calculation method, rental income by complete annuities has to be updated following any of the procedures proposed hereunder:
A. With the calculation program Do you wish to update a rental income?
B.Calculating the update from the variation rates
C. Directly perform calculations using the indices
To perform calculations directly, you should follow the recommendations set forth below, which will vary depending on the periods among which the rental income is to be updated. In this case, it is necessary to take into account that results might differ in some decimals, due to the rounding off as, for practical purposes, INE publishes index-related data rounded-off to three decimal places, but calculates variations using a larger number of decimals.
Update of rental income with the CPI between two months subsequent to January 2002

NOTE: The indices quotient should be rounded to 3 decimals before being multiplied by the initial income
For example: You wish to update income with the CPI from August 2002 and August 2003.

- Income before updating = 400 euros
- CPI August 2002 (See table 1): 71.085
- CPI August 2003 (See table 1) : 73.213

(Three-decimal) indices quotient: 73.213 / 71.085 =1.030
Updated income = 400 € x (73.213 / 71.085) = 400 € x 1.030 = 412€

Table 1. CPI base 2021

| Year | January | February | March | April | May | June | July | August | Sep. | Oct. | Nov. | Dec. |
| --- | --- | --- | --- | --- | --- | --- | --- | --- | --- | --- | --- | --- |
| 2002 | 69.530 | 69.590 | 70.165 | 71.118 | 71.374 | 71.377 | 70.882 | 71.085 | 71.351 | 72.058 | 72.169 | 72.409 |
| 2003 | 72.111 | 72.264 | 72.765 | 73.357 | 73.289 | 73.338 | 72.878 | 73.213 | 73.431 | 73.926 | 74.167 | 74.294 |
| 2004 | 73.773 | 73.807 | 74.322 | 75.340 | 75.784 | 75.904 | 75.328 | 75.661 | 75.796 | 76.575 | 76.767 | 76.692 |
| 2005 | 76.046 | 76.243 | 76.846 | 77.953 | 78.102 | 78.284 | 77.805 | 78.147 | 78.627 | 79.266 | 79.386 | 79.557 |
| 2006 | 79.234 | 79.272 | 79.833 | 80.959 | 81.251 | 81.374 | 80.890 | 81.055 | 80.922 | 81.254 | 81.455 | 81.678 |
| 2007 | 81.129 | 81.184 | 81.800 | 82.930 | 83.158 | 83.311 | 82.704 | 82.818 | 83.090 | 84.167 | 84.770 | 85.125 |
| 2008 | 84.598 | 84.730 | 85.482 | 86.402 | 86.985 | 87.486 | 87.066 | 86.879 | 86.861 | 87.160 | 86.790 | 86.345 |
| 2009 | 85.281 | 85.290 | 85.430 | 86.264 | 86.234 | 86.614 | 85.874 | 86.174 | 85.971 | 86.584 | 87.053 | 87.031 |
| 2010 | 86.158 | 86.001 | 86.639 | 87.562 | 87.756 | 87.913 | 87.519 | 87.740 | 87.801 | 88.603 | 89.084 | 89.631 |
| 2011 | 88.975 | 89.088 | 89.754 | 90.871 | 90.841 | 90.713 | 90.226 | 90.338 | 90.559 | 91.273 | 91.643 | 91.762 |
| 2012 | 90.753 | 90.847 | 91.458 | 92.743 | 92.606 | 92.433 | 92.217 | 92.736 | 93.649 | 94.445 | 94.328 | 94.394 |
| 2013 | 93.188 | 93.349 | 93.678 | 94.028 | 94.201 | 94.340 | 93.853 | 94.145 | 93.969 | 94.351 | 94.547 | 94.632 |
| 2014 | 93.373 | 93.333 | 93.541 | 94.373 | 94.395 | 94.421 | 93.533 | 93.681 | 93.824 | 94.261 | 94.195 | 93.646 |
| 2015 | 92.141 | 92.331 | 92.920 | 93.774 | 94.222 | 94.474 | 93.597 | 93.286 | 92.999 | 93.595 | 93.937 | 93.663 |
| 2016 | 91.876 | 91.552 | 92.139 | 92.785 | 93.292 | 93.723 | 93.041 | 93.161 | 93.165 | 94.230 | 94.572 | 95.132 |
| 2017 | 94.609 | 94.269 | 94.249 | 95.154 | 95.097 | 95.138 | 94.482 | 94.670 | 94.835 | 95.710 | 96.147 | 96.190 |
| 2018 | 95.153 | 95.281 | 95.393 | 96.181 | 97.048 | 97.302 | 96.604 | 96.742 | 96.978 | 97.875 | 97.768 | 97.329 |
| 2019 | 96.085 | 96.320 | 96.669 | 97.644 | 97.834 | 97.719 | 97.113 | 97.059 | 97.059 | 98.001 | 98.167 | 98.096 |
| 2020 | 97.139 | 97.024 | 96.652 | 96.944 | 96.938 | 97.385 | 96.511 | 96.555 | 96.700 | 97.208 | 97.367 | 97.574 |
| 2021 | 97.583 | 97.008 | 97.949 | 99.105 | 99.572 | 100.046 | 99.292 | 99.743 | 100.575 | 102.425 | 102.738 | 103.965 |
| 2022 | 103.567 | 104.403 | 107.566 | 107.375 | 108.262 | 110.267 | 109.986 | 110.265 | 109.498 | 109.866 | 109.734 | 109.899 |
| 2023 | 109.668 | 110.703 | | | | | | | | | | |

Update of rental income with the CPI between a month prior to January 2002 and another subsequent one

NOTE: The indices quotient should be rounded to 3 decimals before being multiplied by the initial income
The ULL index (table 3) from each month is obtained by multiplying the general monthly index, in base 2016, (table 1) by the ULL coefficient (table 2) from that same month:
For example: You wish to update income with the CPI from January 2001 to January 2002.

- Income before updating = 400 euros
- CPI from January 2001 (See Table 4): 133.413
- ULL Index from January 2002 (See table 3)= 137.484

(Three-decimal) indices quotient: 137.484 / 133.413 = 1.031
Updated income = 400 € x (137.484/133.413) = 400 € x 1.031 = 412.40€
Note: The indexes in table 1 and the coefficients in table 2 are rounded up to three and six decimals, respectivelly. The ULL index is figured out by using said data with the largest number of decimals.

Table 1. CPI base 2021

| Year | January | February | March | April | May | June | July | August | Sep. | Oct. | Nov. | Dec. |
| --- | --- | --- | --- | --- | --- | --- | --- | --- | --- | --- | --- | --- |
| 2002 | 69.530 | 69.590 | 70.165 | 71.118 | 71.374 | 71.377 | 70.882 | 71.085 | 71.351 | 72.058 | 72.169 | 72.409 |
| 2003 | 72.111 | 72.264 | 72.765 | 73.357 | 73.289 | 73.338 | 72.878 | 73.213 | 73.431 | 73.926 | 74.167 | 74.294 |
| 2004 | 73.773 | 73.807 | 74.322 | 75.340 | 75.784 | 75.904 | 75.328 | 75.661 | 75.796 | 76.575 | 76.767 | 76.692 |
| 2005 | 76.046 | 76.243 | 76.846 | 77.953 | 78.102 | 78.284 | 77.805 | 78.147 | 78.627 | 79.266 | 79.386 | 79.557 |
| 2006 | 79.234 | 79.272 | 79.833 | 80.959 | 81.251 | 81.374 | 80.890 | 81.055 | 80.922 | 81.254 | 81.455 | 81.678 |
| 2007 | 81.129 | 81.184 | 81.800 | 82.930 | 83.158 | 83.311 | 82.704 | 82.818 | 83.090 | 84.167 | 84.770 | 85.125 |
| 2008 | 84.598 | 84.730 | 85.482 | 86.402 | 86.985 | 87.486 | 87.066 | 86.879 | 86.861 | 87.160 | 86.790 | 86.345 |
| 2009 | 85.281 | 85.290 | 85.430 | 86.264 | 86.234 | 86.614 | 85.874 | 86.174 | 85.971 | 86.584 | 87.053 | 87.031 |
| 2010 | 86.158 | 86.001 | 86.639 | 87.562 | 87.756 | 87.913 | 87.519 | 87.740 | 87.801 | 88.603 | 89.084 | 89.631 |
| 2011 | 88.975 | 89.088 | 89.754 | 90.871 | 90.841 | 90.713 | 90.226 | 90.338 | 90.559 | 91.273 | 91.643 | 91.762 |
| 2012 | 90.753 | 90.847 | 91.458 | 92.743 | 92.606 | 92.433 | 92.217 | 92.736 | 93.649 | 94.445 | 94.328 | 94.394 |
| 2013 | 93.188 | 93.349 | 93.678 | 94.028 | 94.201 | 94.340 | 93.853 | 94.145 | 93.969 | 94.351 | 94.547 | 94.632 |
| 2014 | 93.373 | 93.333 | 93.541 | 94.373 | 94.395 | 94.421 | 93.533 | 93.681 | 93.824 | 94.261 | 94.195 | 93.646 |
| 2015 | 92.141 | 92.331 | 92.920 | 93.774 | 94.222 | 94.474 | 93.597 | 93.286 | 92.999 | 93.595 | 93.937 | 93.663 |
| 2016 | 91.876 | 91.552 | 92.139 | 92.785 | 93.292 | 93.723 | 93.041 | 93.161 | 93.165 | 94.230 | 94.572 | 95.132 |
| 2017 | 94.609 | 94.269 | 94.249 | 95.154 | 95.097 | 95.138 | 94.482 | 94.670 | 94.835 | 95.710 | 96.147 | 96.190 |
| 2018 | 95.153 | 95.281 | 95.393 | 96.181 | 97.048 | 97.302 | 96.604 | 96.742 | 96.978 | 97.875 | 97.768 | 97.329 |
| 2019 | 96.085 | 96.320 | 96.669 | 97.644 | 97.834 | 97.719 | 97.113 | 97.059 | 97.059 | 98.001 | 98.167 | 98.096 |
| 2020 | 97.139 | 97.024 | 96.652 | 96.944 | 96.938 | 97.385 | 96.511 | 96.555 | 96.700 | 97.208 | 97.367 | 97.574 |
| 2021 | 97.583 | 97.008 | 97.949 | 99.105 | 99.572 | 100.046 | 99.292 | 99.743 | 100.575 | 102.425 | 102.738 | 103.965 |
| 2022 | 103.567 | 104.403 | 107.566 | 107.375 | 108.262 | 110.267 | 109.986 | 110.265 | 109.498 | 109.866 | 109.734 | 109.899 |
| 2023 | 109.668 | 110.703 | | | | | | | | | | |

Table 2. ULL coefficients. CPI Base 2016

| January | February | March | April | May | June | July | August | Sep. | Oct. | Nov. | Dec. |
| --- | --- | --- | --- | --- | --- | --- | --- | --- | --- | --- | --- |
| 1.977332 | 1.983464 | 1.975933 | 1.968810 | 1.968878 | 1.971159 | 1.990145 | 1.993687 | 1.983476 | 1.971022 | 1.965383 | 1.967373 |

Table 3. ULL Indices

| Year | January | February | March | April | May | June | July | August | Sep. | Oct. | Nov. | Dec. |
| --- | --- | --- | --- | --- | --- | --- | --- | --- | --- | --- | --- | --- |
| 2002 | 137.484 | 138.030 | 138.642 | 140.018 | 140.526 | 140.696 | 141.065 | 141.721 | 141.523 | 142.027 | 141.841 | 142.455 |
| 2003 | 142.587 | 143.333 | 143.779 | 144.427 | 144.298 | 144.560 | 145.039 | 145.963 | 145.648 | 145.710 | 145.767 | 146.165 |
| 2004 | 145.874 | 146.393 | 146.856 | 148.329 | 149.210 | 149.619 | 149.914 | 150.845 | 150.341 | 150.932 | 150.876 | 150.882 |
| 2005 | 150.367 | 151.225 | 151.842 | 153.474 | 153.773 | 154.310 | 154.844 | 155.800 | 155.954 | 156.236 | 156.025 | 156.518 |
| 2006 | 156.671 | 157.233 | 157.745 | 159.394 | 159.973 | 160.401 | 160.982 | 161.598 | 160.506 | 160.153 | 160.090 | 160.691 |
| 2007 | 160.419 | 161.026 | 161.631 | 163.273 | 163.728 | 164.218 | 164.594 | 165.113 | 164.807 | 165.895 | 166.605 | 167.473 |
| 2008 | 167.279 | 168.059 | 168.906 | 170.110 | 171.263 | 172.449 | 173.274 | 173.210 | 172.287 | 171.794 | 170.576 | 169.872 |
| 2009 | 168.628 | 169.170 | 168.804 | 169.838 | 169.785 | 170.729 | 170.902 | 171.805 | 170.521 | 170.659 | 171.093 | 171.222 |
| 2010 | 170.363 | 170.580 | 171.192 | 172.392 | 172.782 | 173.291 | 174.176 | 174.926 | 174.150 | 174.638 | 175.083 | 176.338 |
| 2011 | 175.933 | 176.704 | 177.348 | 178.908 | 178.855 | 178.810 | 179.562 | 180.106 | 179.621 | 179.900 | 180.114 | 180.530 |
| 2012 | 179.448 | 180.192 | 180.715 | 182.593 | 182.329 | 182.200 | 183.525 | 184.888 | 185.750 | 186.153 | 185.390 | 185.708 |
| 2013 | 184.263 | 185.155 | 185.101 | 185.124 | 185.470 | 185.959 | 186.781 | 187.695 | 186.386 | 185.967 | 185.822 | 186.177 |
| 2014 | 184.630 | 185.122 | 184.830 | 185.803 | 185.852 | 186.120 | 186.145 | 186.770 | 186.097 | 185.791 | 185.130 | 184.237 |
| 2015 | 182.194 | 183.135 | 183.604 | 184.624 | 185.513 | 186.224 | 186.272 | 185.983 | 184.462 | 184.477 | 184.623 | 184.269 |
| 2016 | 181.669 | 181.590 | 182.060 | 182.676 | 183.680 | 184.744 | 185.166 | 185.733 | 184.791 | 185.730 | 185.869 | 187.160 |
| 2017 | 187.074 | 186.978 | 186.229 | 187.341 | 187.234 | 187.532 | 188.032 | 188.742 | 188.102 | 188.646 | 188.965 | 189.242 |
| 2018 | 188.149 | 188.987 | 188.491 | 189.363 | 191.076 | 191.798 | 192.256 | 192.874 | 192.354 | 192.913 | 192.151 | 191.482 |
| 2019 | 189.992 | 191.047 | 191.012 | 192.242 | 192.623 | 192.620 | 193.270 | 193.506 | 192.515 | 193.162 | 192.935 | 192.991 |
| 2020 | 192.076 | 192.444 | 190.977 | 190.864 | 190.860 | 191.962 | 192.071 | 192.501 | 191.803 | 191.598 | 191.364 | 191.964 |
| 2021 | 192.954 | 192.412 | 193.541 | 195.119 | 196.045 | 197.206 | 197.605 | 198.857 | 199.487 | 201.881 | 201.920 | 204.538 |
| 2022 | 204.786 | 207.080 | 212.543 | 211.401 | 213.155 | 217.353 | 218.888 | 219.834 | 217.188 | 216.549 | 215.669 | 216.213 |
| 2023 | 216.851 | 219.575 | | | | | | | | | | |

Update of rental income with the CPI between two months prior to January 2002

NOTE: The indices quotient should be rounded to 3 decimals before being multiplied by the initial income
For example: You wish to update income with the CPI from August 1999 and August 2001.
(Three-decimal) indices quotient:: 136.745 / 127.312 =1.074
Updated income = 400 € x (136.745 / 127.312) = 400 € x 1.074 = 429.60€