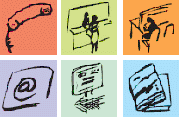 Custom requests
Publications do not contain all the data that INE can offer. Sometimes, special tables can be made that are not published, data can be obtained with a higher level of territorial or sectoral breakdown, etc... All this constitutes custom requests for information.
Custom requests are made via the User Services Area, indicating the contact person's data (name and postal address, telephone, fax or e-mail) and detailing precisely what information you are requesting. You can use the following media.
Post: National Statistics Institute. Área de atención a usuarios
Avenida de Manoteras, 50-52 - 28050 Madrid.
Telephone number: 91 583 91 00
Online consultation form: www.ine.es/infoine
For all the requests a feasibility analysis is performed in order to verify if the resulting data safeguard statistical confidentiality and are representative, with these processes being performed in the shortest time possible. The average response time is 10 working days.
If the request is feasible, an estimate of the cost of preparing the information will be sent, along with the approximate term of delivery and restrictions, if any, under which the information can be used. Once the estimated cost is accepted, the request is prepared and sent to the user in the most suitable format.
The costs of a request is calculated according to the Resolución de precios privados de los productos de difusión del INE (BOE 218, 11 September 2021)
Custom microdata files
In addition to the microdata files with standard anonymisation that can be downloaded for free, it is possible to request microdata with more detailed information that require compliance with specific conditions of use of the information.
Content of the detailed microdata files and their rates and prices
With the sole purpose of serving the needs of scientific researchers, professionals who work in research institutions, it is possible to request access to unidentified microdata when their use is justified in scientific research projects. To request these files, use the attached form attached. The request shall be subject to a feasibility study and, if approved, access to information will always require a signature from the research institution and research team members committing to preserving statistical secrecy. In addition, a protocol will be signed specifying the conditions for access to the data.